The year is 1843.
A remarkable book has just been published in England by a botanist called Anna Atkins. It is called 'Photographs of British Algae' and will be the first publication to use photographic illustrations using the 'cyanotype' technique. This process - which relies on the light sensitivity of iron salts to produce the distinctive blue colour - has been invented by the eminent scientist and friend of Anna Atkins, John Herschel. Mrs. Atkins will be considered by some to be the first female photographer.
Illustration from 'Photographs of British Algae' by Anna Atkins 1843
By the mid nineteenth Century, John Herschel is a celebrated mathematician, botanist, astronomer and scientist. He has discovered infrared, sailed to South Africa to study astronomy in the southern hemisphere and will have named seven of the moons of Saturn. He will be the person responsible for coining the term 'photography' and have been involved in several scientific advancements related to this medium.
We move forward now to 1863 and a woman has been given a camera by her daughter for her forty eighth birthday. Over the following eleven years she will immerse herself in the 'art' of photography and produce work that will receive both criticism and high praise. Her name is Julia Margaret Cameron.
Mrs. Cameron will become a prolific artist and will be known for her photographic illustrations of historical stories and also for her striking portraits of famous intellectuals, artists and thinkers. Some of her subjects will have been members of an exclusive artistic salon presided over by her sister Sarah Prinsep. Sarah's daughter Julia will become the mother of Virginia Woolf.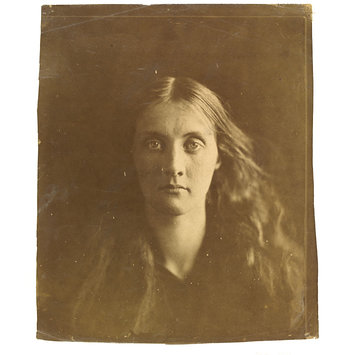 Julia Jackson by Julia Margaret Cameron, 1867 via
here
And amongst many others who sit for Mrs.Cameron will be Charles Darwin, Edward Burne-Jones, Robert Browning, Alfred Lord Tennyson and her great friend and supporter - John Herschel.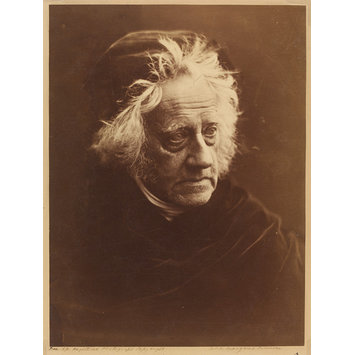 John Herschel by Julia Margaret Cameron via
here